Geography Syllabus and Strategies for UPSC IAS Prelims Examination By Yuvraj IAS
---
Geography as a subject plays a crucial role in all competitive examination. The nature of questions asked by UPSC on geography is both analytical and application. But once approached rightly one can easily answer the questions from geography part.
 Geography
---
Geography is a vast subject which looks at the spatial connection between people, places, and the earth and it extensively covers all spheres and seeks to understand the world – its social and economic parameters- through an understanding of place and location.  Geography subject is a multi-disciplinary in nature as it echoes in physical and regional geography as well as overlaps with other topics like environment, economics, and also important in UPSC current affairs perspective. The nature of Geography questions asked by UPSC in the Civil Services Exam is both basic and application type.
Syllabus of Geography for UPSC prelims
---
Indian and World Geography – Physical, Social, Economic Geography of India and the World
Geography Syllabus is divided into two parts:
Indian Geography
World Geography
Before starting with the strategies to cover Geography syllabus for IAS Prelims Exam, let us have a look at the syllabus. With the previous years' question pattern analysis it is observed that more weightage is given to Indian Geography in the prelims examination. Hence, it is advised to candidates to prioritize their targets but doesn't mean one has to neglect World Geography.
I.  Indian Geography
---
The topics and subtopics in Indian Geography can be broadly classified as given below:
1. Basic idea about India
i.  Location, latitude, longitude, time zone,
ii.  Neighboring countries
iii. States and its position and the states on International boundaries
iv. Important straits
2. Physical features of India
i. The Himalayas
Geological Formation
Physiographic divisions
Climate, Vegetation, Soil and Biodiversity
Major passes
Significance
Recent issues
ii. The Great North Indian plains
Geological Formation
Physiographic divisions
Climate, Vegetation, Soil and Biodiversity
Significance
iii. Peninsular Plateau
Geological formation
Deccan plateau
Central highlands
Western and Eastern Ghats
Socio-econ
iv. Indian Desert
v. Coastal plains and Islands
3. River systems – Characteristics, comparison and significance
i.    Himalayan rivers
ii.   Peninsular rivers
iii.  River basins
iv.  Hydro-Power projects, Power plants and Major Dams
v.   Regional development and planning
vi. West flowing and east flowing rivers
vii. Interlinking of rivers
Climate in India
i. Monsoon
Driving mechanism
Effects of La-Nino and El-Nino
Recent theories
ii. Season of India
iii. Cyclones
Mineral and industries
i. Distribution of min
ii. Industrial policies
iii. Location and factors
iv. Issues and challenges of the industries
v. Industrial clutters
Agriculture and Allied-characteristics and Problems
i. Land utilization
ii. Types of agriculture practices
iii. Soils and Crops
iv. Trends agriculture (Green revolution )
v. Irrigation
vi. Major irrigation projects
vii. Land reforms
viii. Government policies and schemes
ix. Animal husbandry (livestock resources)
Natural vegetation and fauna- Characteristics, importance, comparison and significance
i. Classification of natural vegetation
ii. Rainfall distribution
iii. Wildlife sanctuaries
iv  National Forest Policy
v. Biosphere reserve
vi. National parks
vii. Environmental issues
viii. Red-listed species (in recent news)
Economic infrastructure
i. Transportation,
Road(National Highways)- Rail- Air- Water(Major inland water ways) and its Significance
ii. Power and energy sector
iii. Sources of conventional and non-conventional energy
iv. Energy conservation and crisis
v. Recent developments
Human Geography
i. All the attributes Population
ii. Recent census- 2011
Weightage of Geography Section in the UPSC Prelims Examination
---
If we analyse the UPSC Previous Years Question Papers, one can observe that about 15-20% of weightage is given to Geography which makes it an important factor in the UPSC Civil Service Exam. And, Geography section carries around 30-40 marks which will make the candidates to fetch these marks easily and to clear the prelims if they prepare well and in the right method.
Below given is an analysis of geography questions asked in 6 years of UPSC Civil Services Examination.
| | |
| --- | --- |
| Year | Number of Geography Questions asked |
|  2016 | 12 |
|  2015 | 14 |
|  2014 | 20 |
| 2013 | 15 |
|  2012 | 20 |
|  2011 | 16 |
One can also observe that some questions asked in the examination from the Environment section have direct correlation with the Indian and World Geography. Also, with the change in the exam pattern and scope, the geopolitics has gained more importance in UPSC Civil Services Examination.
With current affairs playing a major role in the IAS Exam, candidates should make sure that they read newspaper every day and are able to demonstrate appropriate facts with conceptual clarity by correlating with the Geography Syllabus. It is also recommended to candidates to give more importance to Indian Geography as it accounts for major part in the UPSC IAS Prelims Examination.
Here we have come up with some strategies on how to cover Geography syllabus for UPSC  Prelims Examination, which might be helpful to the aspirants in their preparation.
How to prepare for Indian Geography (Physical, Social & Economic)
---
While preparing for Physical Geography of India, aspirants should remember not to give more importance on facts and data. It is advised to candidates that before getting deep into the Physical Geography to have a clear understanding of the fundamentals of Physical Geography as this will make the remaining part of the study easy and also help the candidates to answer the questions on environmental issues related with conceptual clarity as well as to tackle economic perspective concepts and questions.
Here is a strategy on how to cover the Physical Geography considering various aspects and how each topic under this part can be interlinked. For e.g. consider a region
Begin with the characteristics of the region
The process behind their formation
Its mineral wealth
The climate of that region and why is the climate so in that region
Vegetation in that region and its direct/indirect relation to climate and human activities etc.
Similarly for the River Systems of India, focus should be on
Evolution of River System
Classification
Drainage Pattern (states through which the river flows through)
Characteristics of the river system
Difference between the two river systems and salient features of each river system
Ecological issues (anthropogenic, projects on dams, kennels etc.)
Candidates should always remember there are very interesting facts about River Systems in India
For e.g. Most of the rivers flow towards the east; some rivers flow westwards; east flowing rivers from delta; these information is available in NCERT Textbooks which aspirants can refer to understand and remember in detail. There are few direct questions asked in the civil services preliminary examination from these sections which are picked directly from the NCERT books.
Climatology is extremely important from UPSC exam point of view and no books other than NCERT explain Monsoons in India better. While studying for Climate in India, candidates should give importance to factors that determine the Climate of India; Indian Monsoon, Upper Air Circulation – Jet Streams & Westerlies, Cyclones – tropical and temperate, El-Nino, La-Nino.
For e.g. recently the Vardah Cyclone was in news, so taking this issue for the current affairs section how candidates can correlate it to the Geography syllabus and are the areas they should focus on.
Naming of the cyclones
Which country has named it?
Formation of cyclones
Cyclone prone areas in India and world
Below given is an example of question asked in previous year UPSC Prelims 2015
In the South Atlantic and South Eastern Pacific regions in tropical latitudes, cyclone does not originate. What is the reason?
(a) Sea Surface temperature are low
(b) Inter Tropical Convergence Zone seldom occurs
(c) Coriolis force is too weak
(d) Absence of land in those regions
Ans. (b)
To understand the Mineral Wealth of India one should give importance to the location, factors behind location of minerals, characteristics of minerals, their uses and threats.
Below given is a sample question asked in UPSC civil services prelims exam 2016.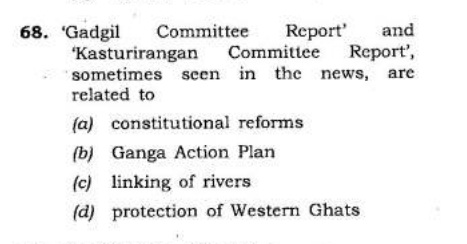 Why the question came:
A central government order on 5 September, 2015, had asked the six states that share the Western Ghats to ban all 'destructive' activities. This was as suggestion of the Gadgil committee. Also, the report along with Rangarajan committee report gained much more importance due to the recent Kerala elections.
Right Sources and Books
---
Geography of India
NCERT XI Indian Physical Environment (New)
NCERT XII India-People and Economy (New)
Physical Geography
NCERT VIII Resource and Development (New)
NCERT XI Fundamentals of Physical Geography (New)
 World Geography
---
World Geography becomes an important sub section in the Geography syllabus of UPSC as almost around 5-6 questions are asked every year is asked in the civil service exam from world geography.
World Geography syllabus for UPSC with important topics:
Universe
i.  Theories related to Solar System
ii. Theories related formation of universe
iii. Recent updates on the same
Basic idea about Earth
i. Motion of the Earth – Rotation and Revolution
ii. Latitudes and Longitudes
ii. Inclination of the Earth's Axis – it's effect on seasons
iv. Solar Eclipse, Lunar Eclipse and Tides and their significance
Geomorphology
i. Earth's movement (exo-genetic and endo-genetic)
ii. Earthquakes, volcanic activity
iii. Basic idea about Continental Drift Theory, Plate Tectonics Theory, Sea Floor Spreading
iv. Interior of the earth
v. lithosphere
vi. Interaction of lithosphere with other spheres
vii. Mass Movements of landforms, erosion and deposits
viii. Basic information about geographical landforms and their significance
ix. Rock system and Classification of Rocks
Climatology
i. Structure and composition of atmosphere
ii. Factors controlling temperature distribution
iii. Insolation and terrestrial radiation
iv. Heat budget
v. Global warming and ozone layer
vi. Humidity and condensation
vii. Clouds
Classification of clouds
viii. Precipitation
Precipitation mechanism
Different types and forms of precipitation
ix. Pressure belts
x. Atmospheric circulation
Winds
Planetary Winds
Seasonal and local Winds
Cyclones Tropical and Temperate cyclone
Formation of cyclone, characteristics and impact
Jet streams
Various atmospheric phenomenon
5. The hydrosphere
i. Bottom relief of ocean
ii. Salinity and temp variation
iii. Ocean currents
iv. Ocean deposit
v. Ocean resources
vi. Recent issues and development with ref to oceanography- Eg: UNCLOS
Biosphere
i. Major Biomes
ii. Flora and fauna
iii. International organization for biodiversity
iv. Conservation of Biodiversity
v. Recent issues
Economic geography
Map work
The questions in the UPSC prelims exam can be asked from and every sub-topic that falls under the World Geography. Hence, it is bit difficult to say which topics should be covered and which not, therefore keeping the limited time, here we narrow down the important areas that needs focus and from which questions are asked frequently in the civil services IAS prelims exam. With previous years UPSC question papers analysis, one can observe that the questions asked under this part are majorly analytical and application based.
Below given is a sample question asked in UPSC civil services prelims exam 2016.
What is the correct sequence of occurrence of the following cities in South-East Asia as one proceeds from south to north?  (2014)
Bangkok
Hanoi
Jakarta
Singapore
Select the correct answer using the code given below.
4-2-1-3
3-2-4-1
3-4-1-2
4-3-2-1
Solution (c)
REFERENCE BOOKS AND OTHER SOURCES
Geography of the World
NCERT VI Land and People Part-I (Old)
NCERT VII Land and People Part-II (Old)
Certificate Physical and Human Geography – Goh Cheng Leong-Chapter 15-25
Detailed references
Geography of India – Majid Husain
A Comprehensive Geography Book  -Khullar
Spectrum
Other sources
The Hindu and Indian express
nic.in
Yojana and Kurukshetra Magazines (with geography topics)
'India Yearbook' published by the Publication Division
Down to earth Magazine
Recent reports published by various international organization
Atlas
Orient Black Swan School Atlas
Oxford School Atlas
---
Tags
upsc ias, upsc ias exam study material, current affairs for upsc ias exam, upsc prelims test series, upsc mains test series, upsc ias syllabus, upsc ias prelims syllabus, upsc ias mains syllabus, optional subjects for upsc mains exam, upsc ias exam pattern, how to cover current affairs for upsc ias exam, how to choose optional subject, upsc prelims, upsc mains, upsc prelims 2020, upsc previous year papers, upsc prelims 2019, upsc mains 2019, upsc mains 2020, current affairs 2019, current affairs test series, current affairs mcqs, ncert test series for upsc ias exam, ncert syllabus, ncert books, booklist for upsc ias exam, indian polity by laxmikanth, the hindu newspaper, indian express newspaper, the hindu analysis, the hindu notes, yojana magazine, current affairs notes, ncert notes, indian polity notes, history notes for upsc, geography notes for upsc, economy notes for upsc, environment notes for upsc, science and technology current affairs, art and culture notes, the hindu editorials, daily editorials for upsc ias exam, upsc, ias, ips, indian administrative service, how to become ias officer, how to become ips officer, ssc exam, how to start upsc preparation, indian police service, optional subjects, yuvraj ias study material, yuvraj ias test series, ias study material, topper notes for upsc ias exam, how to prepare for upsc prelims, upsc ias csat exam, telegram group for upsc ias studies, telegram group for upsc ias study material, free upsc ias material, upsc materials, whatsapp group for upsc ias study, study groups on telegram whatsapp facebook, upsc ias study group telegram, free upsc material, telegram group free upsc material, daily hindu newspapers, daily indian express newspaper, the hindu newspaper analysis, indian express newspaper analysis, the hindu newspaper 2019, the hindu, indian express, daily the hindu newspaper, the hindu newspaper notes, the hindu newspaper important topics, what to read in the hindu newspaper, upsc mains 2019, UPSC General Studies Paper – 2 (GS 2) 2019: UPSC MAINS 2019: UPSC CIVIL SERVICES MAINS EXAM By Yuvraj IAS, mains exam upsc, upsc mains 2019 question paper, answer writing, mains answer writing, how to practice answer writing for upsc.